Look out Knicks, here come the Heat (via ESPN.com)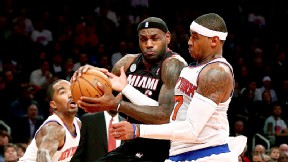 The last time we saw the Knicks and Heat in the same area, we were 19 days 'til Christmas. Carmelo Anthony was in street clothes. Miami, baffled from a second 20-point drubbing in five weeks from New York, was reeling.  And Jason Kidd was playing like he was still in his 20s.
Yet before the night of Dec. 6 had ended, while Dwyane Wade was busy offering looks that said "Let's not get carried away, fellas," LeBron James stood inside the Heat locker room with a sly grin on his face and offered this little reminder:
"The Knicks played great. They outplayed us tonight," he said. "But just remember that we do meet them again this season. Let's talk then."
And here we are.
The same Knicks who are 35-20, sitting atop the Atlantic Division and teasing Broadway lovers everywhere into believing they're every bit as legitimate as their record indicates, are suddenly faced with the game's ultimate challenge:
A nationally televised matinee against the defending world champion Heat — winners of 13 straight — starring top MVP candidate James and superstar sidekick Wade. If that's not tough enough, let's not forget that these Heat are collectively anxious to eradicate any notion that the Knicks deserve to be mentioned in the same breath as them.
The fact that the game is being played at Madison Square Garden doesn't hurt either.
"We'll have to find out a way to deal with LeBron, D-Wade and those boys in Miami," Knicks coach Mike Woodson deadpanned recently. "But isn't that what it's supposed to come down to if we're going to get to where we want to go?"
Thank goodness someone finally said it.
Truth is, the outcome of Sunday's game won't tell us as much about the Knicks as we might think. How the outcome is decided? Now there's where we need to pay attention.
A win is nothing more than fool's gold if Melo pulls a Stephen Curry – or a LeBron, dating back to James' 52-point outburst on Feb. 4, 2009 — and explodes against the Heat. Such a performance won't answer pressing Knicks questions: Is Amar'e Stoudemire really back? Is Iman Shumpert ready to be a stopper at the 2-guard spot? Is anyone capable of helping Tyson Chandler? Are the Knicks capable of becoming more than a team that lives and dies by the jump shot?
The argument that a win is a win doesn't apply here, because in all likelihood, that won't be applicable come playoff time.
No, Sunday's matinee has to be about more than a Melo onslaught. We need to learn something about these Knicks. It has to be about where the Knicks are trying to go, not getting through 48 minutes against the Heat.
At some point, Kidd, three weeks away from his 40th birthday, has to be celebrated for breaking out of his shooting slump from behind the arc instead of getting lauded for his professionalism due to his willingness to come off the bench. He's not being paid $9 million over the next three years just to be a stellar teammate.
Now that Shumpert is back to his natural position, he must do more than defend. Adding something more than 4.6 points per game on 29.9 percent shooting from the field and 66.7 percent shooting from the free throw line is absolutely necessary — especially if he wants to remain a Knick past this summer. (Yes! You heard it here first).
J.R. Smith's 16.1 points per game is greatly appreciated, but when you're shooting 40 percent from the field, the appreciation comes from the Knicks' limited scorers.
At some point, Raymond Felton is going to have to realize he's the team's second-most important player behind Anthony, because when he's not flowing offensively, Smith, Chandler, Shumpert and Stoudemire can all suffer from periods of non-existence.
"Don't worry about [Felton]," Melo told me recently. "He's coming together, working his way back. We believe in him. He'll get it done."
Continue reading on espn.com