It was time to win when Doctor was in (Via ESPN.com)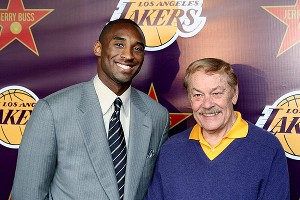 There will be moments of silence in arenas throughout the NBA. Flags will probably be flown at half-mast. And long after basketball luminaries lament the loss of Dr. Jerry Buss, who died Monday at 80, his presence will undoubtedly remain.
In the best ways imaginable. Even at the expense of others.
On one hand you have an owner in Buss who presided over the Los Angeles Lakers for 33-plus years, finishing with 19 division titles, 16 trips to the NBA Finals and 10 — count 'em, 10 — NBA championships, a résumé deserving of its own star on the Hollywood Walk of Fame.
On the other hand, you have everyone else — outside of the Boston Celtics and their 17 titles — who simply doesn't measure up.
In allure. In substance. In success. In legacy.
Those other teams weren't able to acquire one Hall of Famer after another, from Magic Johnson to James Worthy, to Shaquille O'Neal and Kobe Bryant. They were never Showtime. Perhaps more demoralizing was the reality that teams knew they never could be, probably for fear of embarrassing themselves by even trying, because Hollywood wasn't their backdrop and Jack Nicholson wasn't a devout season-ticket holder.
"I've had a lot of success in my career, in my life, but there's nothing like being a Laker," Bryant once told me. "Jack and Denzel [Washington]. The stars. The crowd. The banners hanging from the rafters. The expectations. The accountability to Laker Nation. To be great, you've got to want stuff like this. And the great thing is that you always know it's exactly what the Lakers organization wants. How many players can say that about the organization they play for?"
We won't bother asking that about the New York Knicks.
In the 33 years Buss served as the architect and financier of 10 titles and the personification of Showtime, the Knicks have struggled simply to provide a show.
The Knicks were virtually irrelevant during the 1980s, a mere CliffsNotes in chapters dominated by the Lakers, Celtics and Pistons. Once Pat Riley, the former Lakers coach, and Patrick Ewing paired up in New York, the best they were known for was consistently falling to Michael Jordan's Chicago Bulls or losing to Hakeem Olajuwon and the Houston Rockets in the NBA Finals.
In the immediate aftermath, there were victories over Riley's Miami Heat, Reggie Miller's Indiana Pacers and another trip to the NBA Finals in the lockout-shortened 1999 season versus the San Antonio Spurs. But even that one was tarnished by the absence of an injured Ewing and, ultimately, another Finals loss.
Since then, all New Yorkers have had is years of bad trades, signings, management decisions and the kind of alarming ineptitude that was never tolerated by Dr. Buss nor his nation of Lakers lovers. Last year, one single playoff victory to avoid a sweep seemed like cause for confetti to descend from the rafters of Madison Square Garden — showcasing a Knicks franchise clearly oblivious to the habit of winning and all that comes with it.
Continue reading on espn.com