Can an MVP hopeful get a little help? (Via ESPN.com)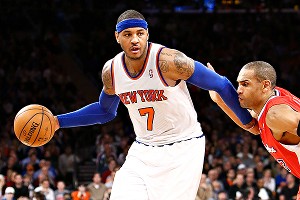 By the end of the third quarter, Carmelo Anthony had drained one 3-pointer after another, erupting for 18 points in the kind of way that diminishes the opposition. Then coach Mike Woodson decided to give Melo a breather to start the fourth quarter, oblivious to the reality that he had no one else to finish it. And by the time the New York Knicks realized the obvious, it was entirely too late.
Chris Paul was too good. As was Jamal Crawford. And the Knicks — without a fourth-quarter explosion from Melo — proved yet again that they simply are not good enough. Aside from losing 102-88 to the Los Angeles Clippers on Sunday, the Knicks are in the process of losing something else: votes for Carmelo Anthony for league MVP honors.
"We've got to get our act together," Knicks coach Mike Woodson said before the game. "There's just no way around that, no matter how we slice it."
There is no doubt that LeBron James is playing a role in Melo's suddenly diminished stature. This is what happens when Melo's primary opposition for MVP honors has hit 49 of his past 65 shots, having scored 30-plus points on better than 70 percent shooting from the field in the past five games, while keeping the Miami Heat in the Eastern Conference lead.
But it's also worth pointing out that James doesn't have to do it alone — that he has individuals like Dwyane Wade, Chris Bosh and even Mario Chalmers, Shane Battier and Ray Allen at his disposal.
Where is Melo's help?
It can't be found at the moment.
Chris Paul is another MVP candidate, but after the 27-point outing Crawford registered at Madison Square Garden on Sunday, it's clear that Paul has help. The same could be said forKevin Durant, who still has Russell Westbrook, arguably the most athletic point guard in NBA history, as his sidekick.
Again, where is Melo's help? Somebody to make the Knicks seem like more than a one-man team, capable of being stripped of its potency the second a Kevin Garnett strolls into town and contributes to Melo shooting 6-for-26 from the field?
"I think we have a great team," Melo told me recently. "We've got the pieces to really make a run for it all. I really believe that. Guys just have to do what we do."
Actually, the Knicks need to do what they're supposed to do. And it hasn't happened recently.
A defense that was once ranked second in the league is now ranked eighth after spending Sunday afternoon giving up 31 points in the fourth quarter. For every win vs. the Heat, Spurs or Celtics, there's a loss vs. the Wizards and the Kings.
No-shows are more common than ever. Injuries are perpetual. Inconsistencies are repetitive. And doubt simply won't dissipate.
None of it qualifies as a surprise, considering that J.R. Smith, the team's second-leading scorer, is shooting less than 40 percent from the field; opposing point guards seem to be salivating at the thought of playing against Raymond Felton; and Iman Shumpert, the team's shut-down backcourt defender, is still struggling with his lateral movement after missing most of this season with a knee injury. But it still needs to be addressed, because the clock is ticking.
"There are four other guys out there on the basketball court (with me)," Anthony told reporters after Sunday's game. "We've just got to make plays. We've been doing that all season long. (Sunday), we just didn't make plays in the fourth quarter."
Continue reading on ESPN.com