Knicks searching for a Ray of hope (via ESPN.com)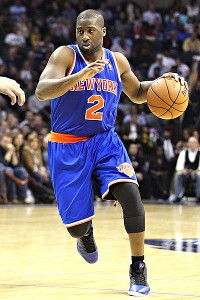 As we watched Carmelo Anthony dribble and pass on Monday afternoon, marveling at the abilities of a 6-foot-8, 240-pound scoring forward doing a not-too-shabby imitation of Magic Johnson, at some point we were reminded of the inevitable: He really isn't Magic Johnson.
Melo isn't Chris Paul, either. Nor Russell Westbrook, Tony Parker or even Jeremy Lin. To make a long story short, Anthony is not a point guard. He has no business being a point forward. He just has to pretend to be one for the moment because of the absence of Raymond Felton — suddenly the New York Knicks' Most Important Player.
No lie!
Just in case you haven't been paying attention, there's a story in New York other than the Brooklyn Nets pulling to within just one game of catching the Knicks for the Atlantic Division lead. The bigger story is the absence of Felton, how anemic the Knicks look without him, and the reality that Lin's successor is every bit as important to New York's playoff prospects as Melo obviously is.
"We need our point guard," Knicks center Tyson Chandler told me following the loss to the Nets. "We need him bad. It's not just because it's unfair for Melo to be distracted with point-guard duties, or for Jason Kidd, at 39, to play the minutes he's playing. It's because we need Raymond. He's our catalyst. Plain and simple. I don't know how any of us could feel differently."
Amen!
The Knicks may be 25-14, prompting folks to act as if they've really won something for the first time in a decade, but they haven't been that impressive lately. They've lost four of their past six. They've lost six of their past 10. The last time they had a three-game winning streak or better was 10 days before Christmas. And now they're looking as if they could possibly lose their division lead — No. 1 on their list of priorities — before Valentine's Day.
The Knicks, a top-ranked defense at the beginning of the season, are ranked 10th now. Routinely, teams are launching open, uncontested perimeter shots. They're getting into the lane with ease, seemingly unintimidated by anything the Knicks throw in their direction.
Continue reading on ESPN.com